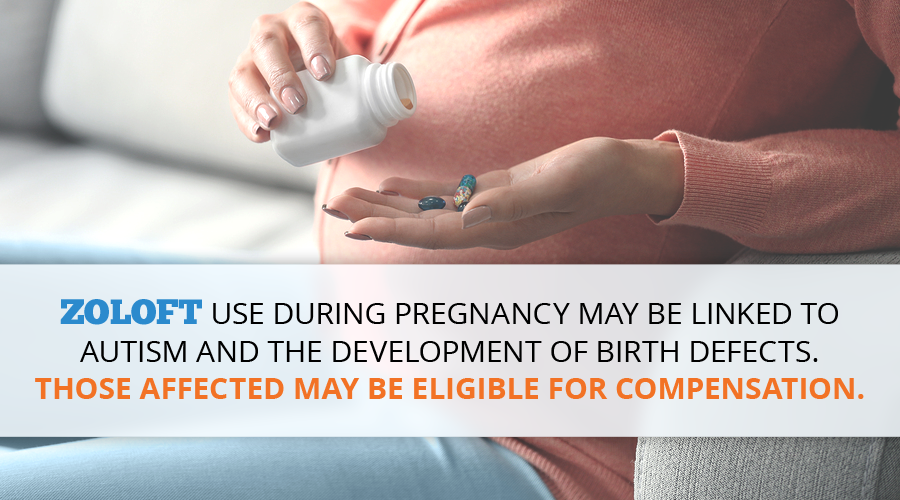 History of Zoloft
Originally developed for the UK market and sold under the brand name Lustral, Zoloft was developed and marketed by Pfizer as a safer alternative to other antidepressants, with fewer withdrawal symptoms and a lower risk of side effects than its competitors. However, a growing body of research has linked Zoloft and similar antidepressants to an increased risk of autism and serious birth defects in babies when taken during pregnancy. In fact, in a 2015 study published in the medical journal JAMA Pediatrics, researchers found that antidepressants like Zoloft were tied to a 200% increased risk of autism when taken during pregnancy. The FDA has classified Zoloft as a pregnancy Category C medication, which means animal studies have shown the drug may have an adverse effect on the fetus when taken during pregnancy.
The FDA has classified Zoloft as a pregnancy Category C medication, which means animal studies have shown the drug may have an adverse effect on the fetus when taken during pregnancy.
Potential Birth Defects Associated
with Zoloft
Persistent pulmonary hypertension (PPHN)
Cleft lip
Cleft palate
Heart malformations
Limb defects
Omphalocele
Craniosynostosis
Neural tube defects
Anal atresia
What is Zoloft?
Zoloft (sertraline) is a prescription drug that belongs to a popular class of antidepressant medications known as SSRIs, or selective serotonin reuptake inhibitors, which are commonly prescribed to control depression and other mental illnesses in patients. SSRIs like Zoloft work by controlling levels of serotonin, a neurotransmitter in the brain thought to affect mood, learning and sleep, and they are currently the most widely prescribed class of antidepressants on the market in the United States. Zoloft was approved by the U.S. Food and Drug Administration (FDA) in 1990, and is manufactured by pharmaceutical giant Pfizer. It is most often prescribed to treat major depressive disorders (MDD), post-traumatic stress disorder (PTSD), obsessive-compulsive disorder (OCD), premenstrual dysphoric disorder (PMDD), panic disorder and social anxiety disorder.
Why are Zoloft Lawsuits Filed?
Current claims against Pfizer allege that the drug company:
Manufactured a defective medication.
Failed to adequately research the risk of Zoloft side effects.
Had a duty to ensure that Zoloft was safe for consumer use.
Failed to provide adequate warnings about the potential for Zoloft to cause birth defects when taken by pregnant women.
Overstated the benefits of Zoloft and downplayed its risks.
Marketed Zoloft as a safe and effective treatment, even for pregnant women.
Zoloft Lawsuit Information
When drug makers fail to warn about the dangers of their medications, consumers are the ones who suffer the consequences, and Zoloft birth defect lawsuits accuse Pfizer of actively advertising Zoloft to pregnant women and women of childbearing age, even though studies showed that the drug posed a risk of serious birth defects when taken during pregnancy. As a result, parents whose children were born with autism, cleft lip, neural tube birth defects or heart malformations after being exposed to Zoloft during pregnancy are filing product liability lawsuits against Pfizer. At least 250 Zoloft lawsuits were consolidated in the U.S. District Court of Pennsylvania for coordinated pretrial proceedings as part of a multidistrict litigation (MDL), and dozens of other Zoloft birth defect claims are pending in state and federal courts across the country.
If you or a loved one took the SSRI antidepressant Zoloft, and subsequently gave birth to a child with severe birth defects, contact a knowledgeable Zoloft attorney today for legal help. With a reputable product liability lawyer on your side, you can protect your legal rights and seek fair and timely reimbursement for your losses.