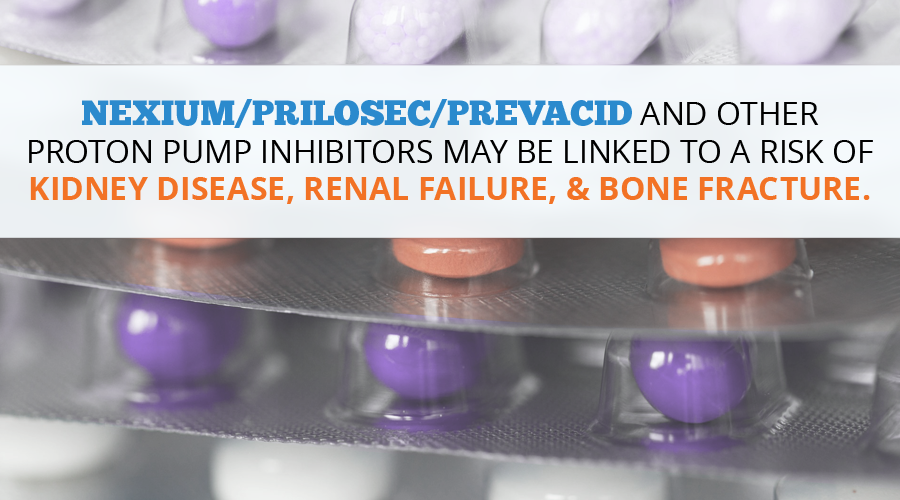 History of Proton Pump Inhibitors
Proton pump inhibitors are the standard of treatment for acid-related disorders. These disorders include gastroesophageal reflux disease and its complications (i.e., erosive esophagitis and Barrett's esophagus), peptic ulcer disease, Zollinger-Ellison syndrome, and idiopathic hypersecretion. Proton pump inhibitors are also successfully used for the treatment of Helicobacter pylori infection and upper gastrointestinal bleeding. There are currently five proton pump inhibitors approved by the Food and Drug Administration and available in the United States. These are omeprazole (Prilosec), lansoprazole (Prevacid), rabeprazole (Aciphex), pantoprazole (Protonix), and esomeprazole (Nexium).
Long-term use of a common type of medication used to treat heartburn, acid reflux, and ulcers may lead to an increased risk of kidney disease and kidney failure, new research shows. The study, published in the Journal of the American Society of Nephrology, adds to prior research that suggests proton-pump inhibitors (PPIs), a group of drugs which reduces gastric acid production, can lead to serious kidney damage.
Alleged Nexium and Prilosec Side Effects
Kidney Disease
Renal Failure
Spinal Fracture
Hip Fracture
Wrist Fracture
Abdominal pain
Chronic stomach lining inflammation
Constipation
Diarrhea
Drowsiness
Dry mouth
Headaches
Nausea
How PPIs work
Nexium, Prevacid and Prilosec OTC are proton pump inhibitors or PPIs. Proton pump inhibitors are used to treat GERD or gastroesophageal reflux disease as well as heartburn, acid reflux, and ulcers. GERD, is a digestive disorder that affects the lower esophageal sphincter, the ring of muscle between the esophagus and stomach. Many people, including pregnant women, suffer from heartburn or acid indigestion caused by GERD.  In most cases, GERD can be relieved through diet and lifestyle changes, but medications like Nexium, Prevavid and Prilosec OTC can often be prescribed or suggested as "medical" solutions.
Why Are Nexium and Prilosec Lawsuits Being Filed?
Studies show people who use Prilosec or Nexium or other PPIs appear to have a 20-50% increase in risk of chronic kidney disease compared with people who do not use these drugs
Safety concerns about PPIs (involving the elevated risk of heart attacks and osteoporosis) were first raised over a decade ago but not adequately investigated by the manufactures of the products
Proton pump inhibitors are considered addictive and this contributes to people staying on the medication for long periods of time increasing the likelihood of potential side effects
How do Proton Pump Inhibitors work?
Proton pump inhibitors (PPIs) reduce the amount of acid made by your stomach. They are commonly used to treat acid reflux and ulcers of the stomach and part of the gut called the duodenum. Most people who take a PPI do not develop any side-effects.
Serious potential side effects or complications linked to proton pump inhibitors like Prilosec OTC, Prevacid and Nexium include: kidney disease, serious kidney complications, renal failure, and bone fracture.  Individuals who use Nexium or Prilosec OTC daily for more than a year, particularly individuals who are 50 years old or older, may be at increased risk for hip fracture,  wrist fracture, and/or spine fracture. Men and women that use Prilosec or Nexium appear to have a 20-50% increased risk for acquiring chronic kidney disease compared with individuals who do not.