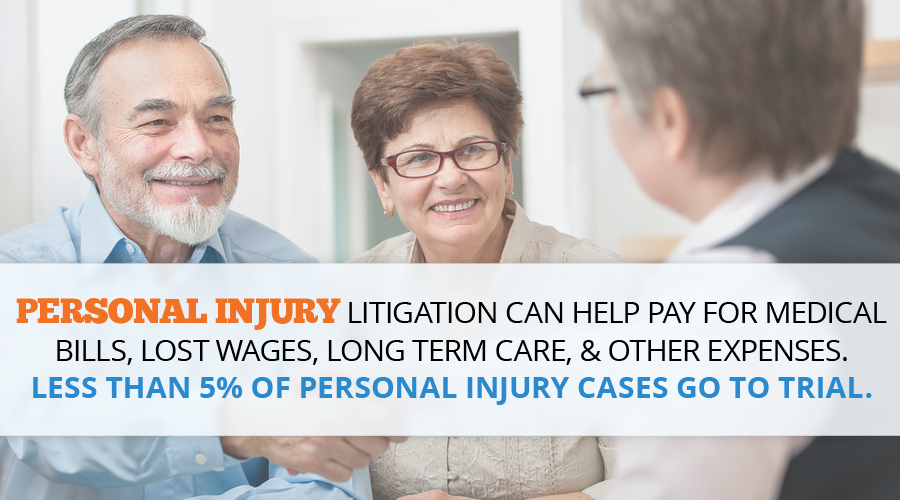 What is Personal Injury Litigation?
A personal injury lawsuit is a legal action, brought in court, by an individual who has been injured, either physically or emotionally, by another individual or corporation, typically by way of an accident or a defective product. Personal injury can occur virtually anywhere – at home, in your car, at work, in the hospital, even walking down the street – and in cases where the victim was injured by a pharmaceutical drug or medical device, illness is also sometimes classified as a personal injury.
Personal injury lawsuits are designed to recover compensation for a variety of damages, including past and future medical expenses, pain and suffering, and lost wages due to the inability to work, and commonly involve auto or trucking accidents, work-related injuries, defective consumer products, sports injuries, negligence or malpractice. Injuries or illnesses from these types of incidents can have an adverse impact on the victim's future, and may result in permanent disability, prevent them from earning an income, and significantly reduce their overall quality of life.
A personal injury lawsuit is a legal action, brought in court, by an individual who has been injured either physically or emotionally by another individual or corporation—typically by way of an accident or a defective product.
Why Personal Injury Lawsuits Are Filed
Victims of serious injuries or side effects may be able to file a lawsuit against the pharmaceutical company, medical device maker, insurance company or corporation, alleging:
Negligence
Malpractice
Birth defects
Birth injuries
Back and neck injuries
Brain injury
Defective product
Slip and fall injury
Wrongful death
Problems Leading to a Personal Injury Claim
Pharmaceutical companies, medical device makers and other big corporations are responsible for the safety of their products, and have a duty to protect the health and well-being of consumers, which they can easily fulfill by providing adequate and timely warnings about any problems or side effects associated with their products. Unfortunately, many corporations value company profits over consumer safety, and therefore choose to conceal these problems, putting consumers at an unnecessary risk of serious injury or possibly even death.
Some common problems that may lead to victims and their families filing a personal injury lawsuit for financial compensation include: illnesses from pharmaceutical drugs, long-term complications from medical devices, serious injuries from motor vehicle accidents and side effects from defective consumer products.
How a Personal Injury Lawsuit Can Help
Personal injury lawsuits can help provide injured individuals and their families with compensation for:
Medical bills
Hospital visits
Long-term care
Permanent disability
Pain and suffering
Emotional trauma
Loss of income
Lost earning capacity
Personal Injury Lawsuit Information
A personal injury lawsuit can help you recover compensation for serious injuries or side effects occurring because of a defective product, auto accident or dangerous medication, helping you cover the cost of your medical bills and loss of income due to your inability to work. However, obtaining damages in a personal injury lawsuit can be an extremely lengthy and complicated process for individuals without an extensive legal background, which is why it is imperative that you enlist the help of an experienced attorney in instances where you plan to file a claim.
If you have suffered a serious injury or illness that you believe was caused by an accident, defective product, or dangerous medical device, a personal injury lawyer can help determine whether you are eligible for financial compensation, which can be pursued by filing a personal injury lawsuit against the at-fault person or party.