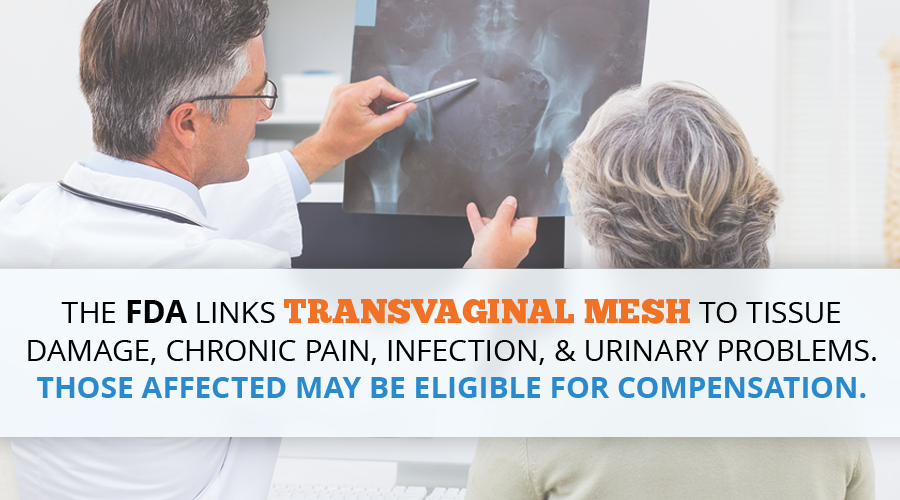 Transvaginal Mesh Injury Warnings
Transvaginal mesh was originally developed based on surgical mesh devices used for hernia repair in the 1950s, and the first vaginal mesh device for POP or SUI repair was approved by the U.S. Food and Drug Administration (FDA) in 1996, through the agency's 510(k) fast-track approval program. Unfortunately, many of the transvaginal mesh products on the market today garnered FDA approval based on the ProtoGen Sling, which was recalled in 1999, after it was discovered that the implant had a "higher than expected rate of vaginal erosion," and did "not appear to function as intended."
Despite growing concerns about the alleged risk of vaginal mesh side effects, the FDA issued a public health advisory in 2008, indicating that complications from transvaginal mesh used for the surgical repair of POP, while serious, were rare. The warning came after the FDA had received more than 1,000 reports from nine vaginal mesh manufacturers of side effects associated with mesh devices used to repair POP or SUI. The agency warned that "treatment of the various types of complications [associated with TVM] included additional surgical procedures (some of them to remove the mesh), IV therapy, blood transfusions, and drainage of hematomas or abscesses."
In 2011, after receiving close to 4,000 reports of complications related to transvaginal mesh in the previous six years, the FDA issued an updated safety communication, warning that side effects from vaginal mesh for POP or SUI repair were not rare. According to the FDA warning, "the most frequent complications reported to the FDA for surgical mesh devices for POP repair include mesh erosion through the vagina, pain, infection, bleeding, pain during sexual intercourse, organ perforation and urinary problems." At that time, the FDA also stated that "it is not clear that transvaginal POP repair with mesh is more effective" than non-mesh repair, and "may expose patients to greater risk."
The FDA has stated that "it is not clear that transvaginal POP repair with mesh is more effective" than non-mesh repair, and "may expose patients to greater risk."
Transvaginal Mesh
Side Effects & Complications
Erosion of the mesh into the vagina
Mesh infection
Organ perforation
Chronic pain
Nerve damage
Vaginal scarring
Pain during intercourse
Vaginal bleeding
Recurrence of POP or SUI
Revision surgery
How Surgical Mesh Works
Transvaginal mesh (TVM) is a net-like implant made from a synthetic plastic called polypropylene and used to treat pelvic organ prolapse (POP) and stress urinary incontinence (SUI) in women. These conditions typically occur when the muscles that hold the pelvic organs in place become weakened, damaged or stretched due to menopause, a hysterectomy or multiple childbirths, and begin to drop into the vagina, and vaginal mesh can help the bladder, uterus and rectum remain in their proper position. Doctors can insert surgical mesh transvaginally (through the vagina) or abdominally, but inserting the mesh through the vagina has been shown to be faster, easier and less invasive.
Transvaginal Mesh Manufacturers
To date, approximately 70,000 lawsuits have been filed on the behalf of patients who suffered injuries or complications as a result of TVM implantation. The manufacturers implicated in these proceedings include:
American Medical Systems
Ethicon
Boston Scientific
C.R. Bard
Coloplast
Cook Medical
Neomedic
Transvaginal Mesh Lawsuit Information
Although vaginal mesh surgery for POP or SUI repair is meant to be easier and less invasive than more traditional procedures, it also carries a higher risk of complications, and there are close to 70,000 product liability lawsuits brought over vaginal mesh injuries pending in the U.S. District Court for the Southern District of West Virginia, with additional transvaginal mesh lawsuits pending in state courts nationwide. If you received a TVM device in the past for POP or SUI repair, and you have since suffered mesh erosion, mesh infection, bladder problems, or another serious side effect, contact a knowledgeable product liability lawyer today to explore your possible compensation options.