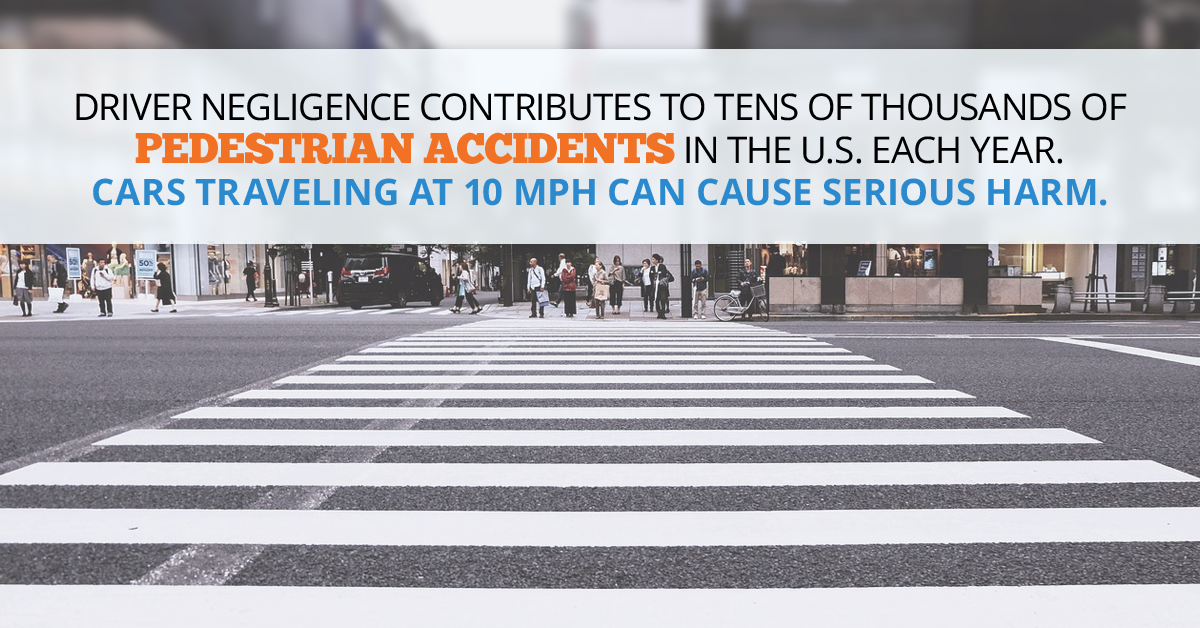 Pedestrian Accident Statistics
There are a number of non-vehicular situations in which a pedestrian may suffer serious injuries, possibly due to a property defect or a poorly maintained sidewalk, for example. Most pedestrian accidents, however, occur when a person on foot — walking, jogging, running, hiking, sitting or lying down — is struck by a passing car or truck, usually while crossing the street or walking on the side of the road.
According to the National Highway Traffic Safety Administration (NHTSA), in 2012 alone, nearly 5,000 pedestrians were killed, and an estimated 76,000 were injured, in motor vehicle accidents in the United States — a six-percent increase from the number of pedestrians killed in traffic crashes the previous year. Even more alarming, more than one-fifth of the children ages 10 to 15 killed in traffic accidents in 2012 were pedestrians, meaning they were struck by a motor vehicle while on foot.
In 2012 alone, nearly 5,000 pedestrians were killed, and an estimated 76,000 were injured, in motor vehicle accidents in the United States.
Possible Causes of Pedestrian Accidents
Failure to stop at a crosswalk
Driving under the influence of drugs or alcohol (drunk driving)
Driving while distracted
Disregarding poor weather or traffic conditions
Making an illegal turn, or failing to signal while turning
Unsafe passing
Speeding in school zones
Failure to yield the right of way to pedestrians
Failure to obey traffic signs or signals
Pursuing Compensation for Pedestrian Accident Injuries
Whatever the circumstances surrounding a pedestrian accident, the injured person may be entitled to financial compensation for medical bills and other related damages, if another person or party's negligence caused or contributed to the accident. The term "negligence" has to do with the failure of a person to do (or not do) something that a reasonable person in a similar situation would, to protect others from foreseeable risks.
In other words, if a driver fails to stop at a crosswalk while pedestrians are crossing the street, and strikes a pedestrian, causing him or her to suffer injuries, the driver may be found negligent in the accident and can be held liable for the associated damages. To establish negligence in a pedestrian accident claim, the injured pedestrian, the "plaintiff," must prove that the person at fault in the accident, the "defendant":
Owed a legal duty to the plaintiff to exercise reasonable care under the circumstances
Failed to fulfill that duty through action or inaction
Caused an accident or injury involving the plaintiff
Caused the plaintiff harm or injury as a result
It should be noted that pedestrians are also expected to exercise reasonable care for their own safety, in order to prevent an accident from occurring, and contributory negligence may be assessed against a pedestrian if he or she failed to exercise such care, and therefore contributed to the cause of his or her own injuries. Pedestrian negligence may include: ignoring the "don't walk" signal at an intersection, darting in front of a moving vehicle, or failing to use marked crosswalks.
Injuries Resulting from Pedestrian Accidents
Lacerations
Broken bones
Paralysis
Spinal cord injuries
Head or neck injuries
Concussion
Traumatic brain injury
Severed limbs
Musculoskeletal injuries
Chest and abdominal injuries
Wrongful death
A Reputable Personal Injury Attorney Can Help
In an accident involving a motor vehicle and a pedestrian, the pedestrian is far more likely to suffer serious injuries than the driver or passenger car occupants. Young children are especially vulnerable to pedestrian accidents, due to their smaller size and lack of judgment regarding motor vehicles and oncoming traffic.
If you or a loved one has been injured in a pedestrian accident with a motor vehicle, contact an experienced personal injury lawyer today for legal help. You may be entitled to financial compensation for your injuries, medical bills, lost wages, emotional trauma, and other related damages, which you can pursue by filing a pedestrian accident claim against the person or party found at fault in the accident.