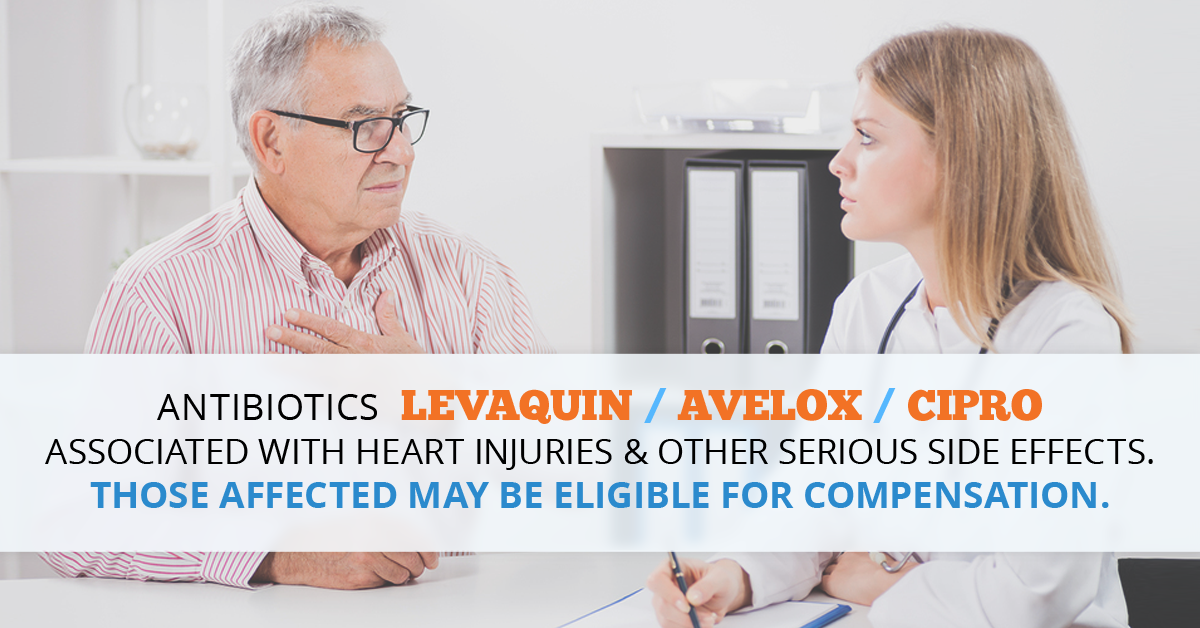 Fluoroquinolone and severe aortic events
Both current and past use of fluoroquinolone antibiotics may be associated with an increased risk for life-threatening aortic aneurysm and aortic dissection, researchers reported.
Adults who had recently taken a fluoroquinolone had a roughly two-fold adjusted increased risk for aortic aneurysm or dissection hospitalization in the nested, case-control analysis of data from the Taiwan National Health Insurance Research Database (NHIRD).
"We found that use of fluoroquinolones was associated with an approximately 2-fold increase in risk of aortic aneurysm and dissection within 60 days of exposure," the researchers wrote.
"We found that use of fluoroquinolones was associated with an approximately 2-fold increase in risk of aortic aneurysm and dissection within 60 days of exposure," the researchers wrote.
Why Lawsuits Are Being Filed
Levaquin, Cipro, and Axelox lawsuits brought against their manufacturers allege:
Hundreds of Americans with Minor Infections Are Dying Every Year from Aneurysms That May Have Been Caused by the Super-Antibiotics they Should Never Have Been Prescribed
The drug company manufactured a defective and unreasonably dangerous medication.
The company knew about the potential for Levaquin to cause nerve damage in users.
The company knew that peripheral neuropathy side effects could become permanent.
The company failed to alert patients and doctors about this risk.
The company overstated the benefits of Levaquin and downplayed its risks.
The company marketed Levaquin as a safe and effective antibiotic drug.
What are Fluoroquinolones?
Fluoroquinolones, (Levaquin (levofloxacin), Avelox, Cipro) is a prescription medication that belongs to a group of antibiotics called fluoroquinolones, used to treat bacterial infections of the skin, kidneys, prostate, bladder or sinuses. The second most popular drug in the fluoroquinolone class of antibiotics, accounting for 28% of all prescriptions, Levaquin was originally approved for consumer use in 1996. Fluoroquinolones like Levaquin are the most widely-used type of antibiotic drugs in the United States, and in some cases, they are life-saving measures. Unfortunately, the medications may also increase the risk of serious and potentially life-threatening side effects, like peripheral neuropathy, aortic dissection, aneurysm, strokes and heart attacks.
How a Levaquin, Cipro, or Avelox Lawsuit Can Help
Victims of alleged Levaquin, Cipro, or Avelox side effects may be entitled to compensation to cover the cost of:
Medical expenses
Hospital visits
Emotional trauma
Long-term medical care
Pain and suffering
Permanent disability
Lost wages due to the inability to work
Fluoroquinolones Lawsuit Information
More than 26 million Americans receive prescriptions for Levaquin, Cipro, Avelox, and similar antibiotic medications every year, and patients who took these drugs and subsequently suffered Aortic Aneurysm, Aortic Dissection, Other Heart Injuries, permanent nerve damage, or another devastating side effect are now pursuing legal claims against the drug manufacturing companies. According to documents presented in court, many of the drug makers knew as early as 1996 that fluoroquinolone antibiotics increased the risk of irreversible peripheral neuropathy side effects, but chose to conceal this risk from the public.
Now, a number of state and federal lawsuits related to fluoroquinolone Aortic Aneurysm, Aortic Dissection, and nerve damage complications are pending in courts across the country, and at one time, more than 2,000 Levaquin complaints were consolidated before U.S. District Judge John R. Tunheim in a multidistrict litigation (MDL) in Minnesota. Many of the cases were settled by Johnson & Johnson for undisclosed amounts, but as of March 2015, 100 Levaquin lawsuits were still pending in the federal MDL.