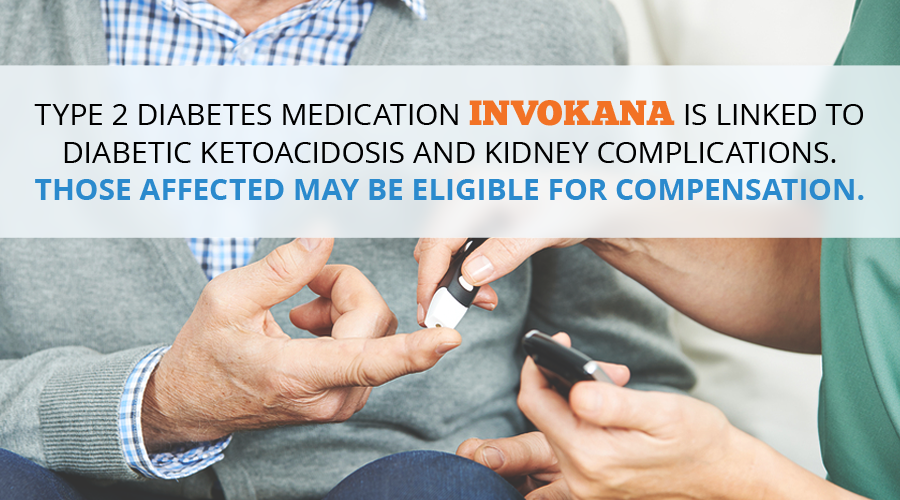 FDA Warnings Linking Invokana to Side Effects
May 2017 FDA Warning – Canagliflozin (Invokana, Invokamet): Drug Safety Communication – Increased Risk of Leg and Foot Amputations:  ISSUE: Based on new data from two large clinical trials, the FDA has concluded that the type 2 diabetes medicine canagliflozin (Invokana, Invokamet, Invokamet XR) causes an increased risk of leg and foot amputations. FDA is requiring new warnings, including the most prominent Boxed Warning, to be added to the canagliflozin drug labels to describe this risk.
In May 2015, the FDA issued a drug safety communication warning that Invokana and other SGLT2 inhibitor drugs may increase patients' risk of diabetic ketoacidosis, a serious condition occurring when the body begins breaking down fat for energy, which produces blood acids called ketones. When these waste products are allowed to build up in the blood, they can become toxic, and if left untreated, diabetic ketoacidosis can lead to hospitalization or death. At the time of its May 2015 warning, the FDA had received approximately 20 reports of ketoacidosis side effects in patients taking SGLT2 inhibitors between March 2013 and June 6, 2014.
Later that same year, the FDA issued another drug safety communication requiring the makers of SGLT2 inhibitors to add warnings to their drug labels regarding the risk of ketoacidosis and urinary tract infections allegedly associated with the diabetes medications. According to the FDA warning, the agency had identified 73 cases of ketoacidosis in patients treated with SGLT2 inhibitors from March 2013 to May 2015, resulting in symptoms like nausea, vomiting, fatigue, abdominal pain and difficulty breathing. At that time, the FDA had also identified 19 cases of life-threatening blood infections (urosepsis) and kidney infections (pyelonephritis) associated with SGLT2 inhibitors, all of which required hospitalization and/or treatment for kidney failure.
According to a 2015 FDA warning, the agency had identified 73 cases of ketoacidosis in patients treated with SGLT2 inhibitors from March 2013 to May 2015, resulting in symptoms like nausea, vomiting, fatigue, abdominal pain and difficulty breathing.
Reported Invokana Side Effects
Diabetic ketoacidosis (DKA)
Leg or Toe Amputation
Other Amputation
Urinary tract infections
Kidney infections
Kidney failure
Blood infections
Yeast infections
Hospitalization
Wrongful death
How Invokana Works
Invokana (canagliflozin) is an oral diabetes medication prescribed in combination with diet and exercise to help control blood sugar levels in adults with Type 2 diabetes. Invokana belongs to a class of diabetes drugs called sodium-glucose cotransporter-2 (SGLT2) inhibitors, which work by inhibiting a special protein in the kidneys (SGLT2) that is responsible for reabsorbing 90% of the glucose in the kidneys. Instead of being reabsorbed, the blood sugar in individuals taking Invokana or another SGLT2 inhibitor is excreted from the body during urination, which results in lowered levels of glucose in the blood. Invokana was approved by the U.S. Food and Drug Administration (FDA) in 2013, and is currently manufactured by Johnson & Johnson's Janssen Pharmaceutical subsidiary.
Why Lawsuits Are Being Filed
Despite being a relatively new medication, Invokana has already been linked to a number of serious and potentially life-threatening complications in users. Past lawsuits claim that Janssen Pharmaceuticals:
Failed to adequately research the safety and effectiveness Invokana.
Knew or should have known about the potential for Invokana side effects & complications.
Concealed the risks of Invokana from consumers, thus preventing individuals from making a educated decisions with their healthcare provider.
Invokana Lawsuit
Since the potential link between Invokana and serious side effects was first discovered, a growing number of adverse event reports have been submitted to the FDA detailing SGLT2 inhibitor complications like increased risk of amputation of feet, lets and toes, diabetic ketoacidosis, urinary tract infections, kidney failure and more. In fact, during the very first year Invokana was on the market, the Institute for Safe Medication Practices (ISMP) identified 457 adverse event reports submitted to the FDA involving alleged side effects of Invokana. If you believe you have been adversely affected by serious side effects of Invokana or another SGLT2 inhibitor medication, consult an experienced product liability lawyer today for legal help. With a qualified Invokana attorney on your side, you may be able to seek damages for your injuries and medical expenses by filing a product liability lawsuit against Janssen Pharmaceuticals.