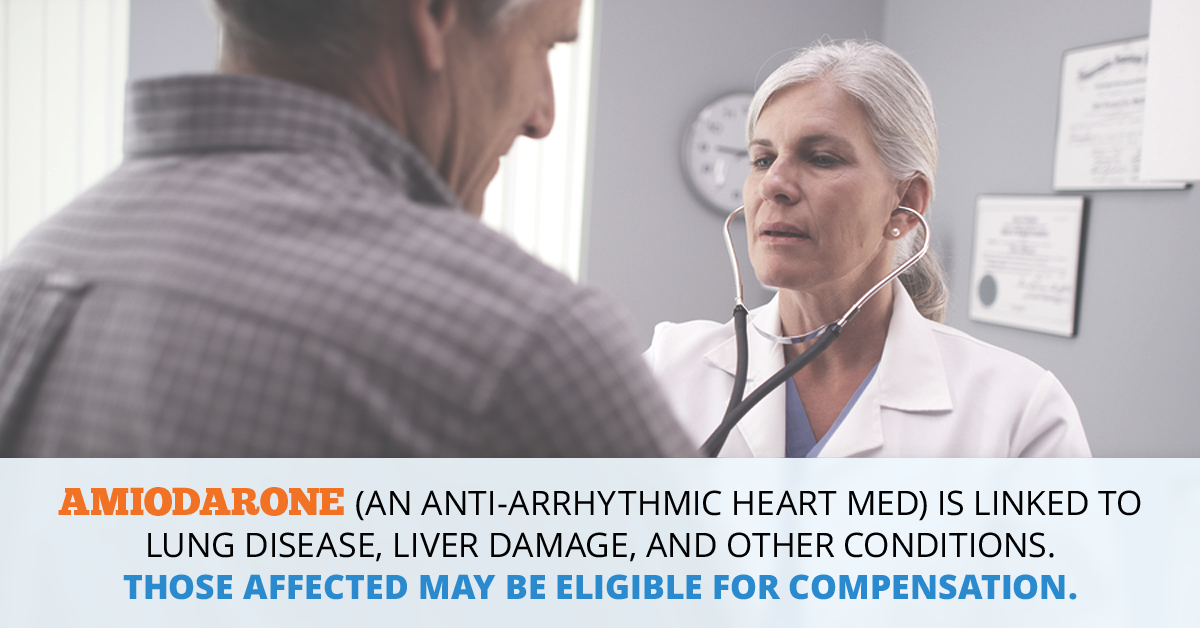 Studies Linking Amiodarone to Injuries
Amiodarone currently carries two black-box warnings regarding the potential for the medication to cause an increased risk of sudden death and other possibly life-threatening side effects, including lung damage, inflammation of the lungs, irregular heartbeat, and liver damage or liver inflammation. In 2005, the FDA issued a safety alert warning patients and medical professionals that amiodarone may cause side effects like pulmonary toxicity, hepatic injury and worsened arrhythmia. In the drug safety communication, the agency warned that "Amiodarone should only be used to treat adults with life-threatening ventricular arrhythmias when other treatments are ineffective or have not been tolerated." According to the FDA, as many as 17% of patients with ventricular arrhythmias taking amiodarone regularly have suffered pulmonary toxicity (hypersensitivity pneumonitis or interstitial/alveolar pneumonitis), a condition that is fatal approximately 10% of the time.
Research has shown that up to 17% of patients taking amiodarone to treat ventricular arrhythmias have suffered severe lung damage complications, with 10% of these lung injuries resulting in death.
Side Effects Associated with Amiodarone
Pulmonary Fibrosis
Lung Disease
Sudden Death/Wrongful Death
Toxic Epidermal Necrolysis (TEN)
Blindness
Kidney Failure
Respiratory Failure
Congestive Heart Failure
Stroke
Liver Damage
Worsened Arrhythmia
Amiodarone Uses
Amiodarone is the generic form of an anti-arrhythmic drug commonly prescribed to reduce heart irregularities like atrial fibrillation, an irregular, rapid heartbeat that can cause poor blood flow, and heart arrhythmias, which occur when the heart beats irregularly, too fast or too slow. Approved by the U.S. Food and Drug Administration (FDA) in 1985, amiodarone is marketed by Upsher-Smith Laboratories under the brand name Pacerone, and by Wyeth-Ayerst Laboratories under the brand name Cordarone. There are four major classes of anti-arrhythmic drugs, and amiodarone belongs to Class III, its function being the following: decreasing the electrical activity in the heart, blocking receptors that use adrenaline, increasing the activity time for contraction in the heart, and slowing or preventing the passing of sodium out of heart cells.
Same Drug, Different Name
Amiodarone is meant to be used only as a last resort medication but has been widely promoted by the manufacturers and prescribed as first resort anti-arrhythmic medications, and is therefore prescribed frequently in the United States. It has several names:
Amiodarone (generic)
Pacerone (Upsher-Smith Laboratories)
Cordarone (Wyeth-Ayerst Laboratories)
Patients who have suffered one or more side effects of amiodarone claim that – had they been adequately warned about the potential complications associated with the anti-arrhythmia drug – they would have avoided taking the medication in the first place and their doctors would have prescribed alternative medication.
File an Amiodarone Lawsuit or Claim
In light of the possibility for amiodarone to cause such serious side effects in users, the medication is only prescribed to patients diagnosed with heart rhythm problems that are potentially deadly, in which case the benefits of the drug may outweigh its risks. Unfortunately, there have been reports of doctors prescribing amiodarone for off-label uses not yet approved by the FDA, which means consumers who have not been diagnosed with a life-threatening heart rhythm problem may be at risk for severe amiodarone complications. If you believe you have been adversely affected by amiodarone side effects like blindness, TEN, lung damage or kidney failure, contact a knowledgeable amiodarone attorney today to discuss your legal options. You may have grounds to file an amiodarone lawsuit against the drug manufacturing company, in order to seek fair and timely reimbursement for your losses.