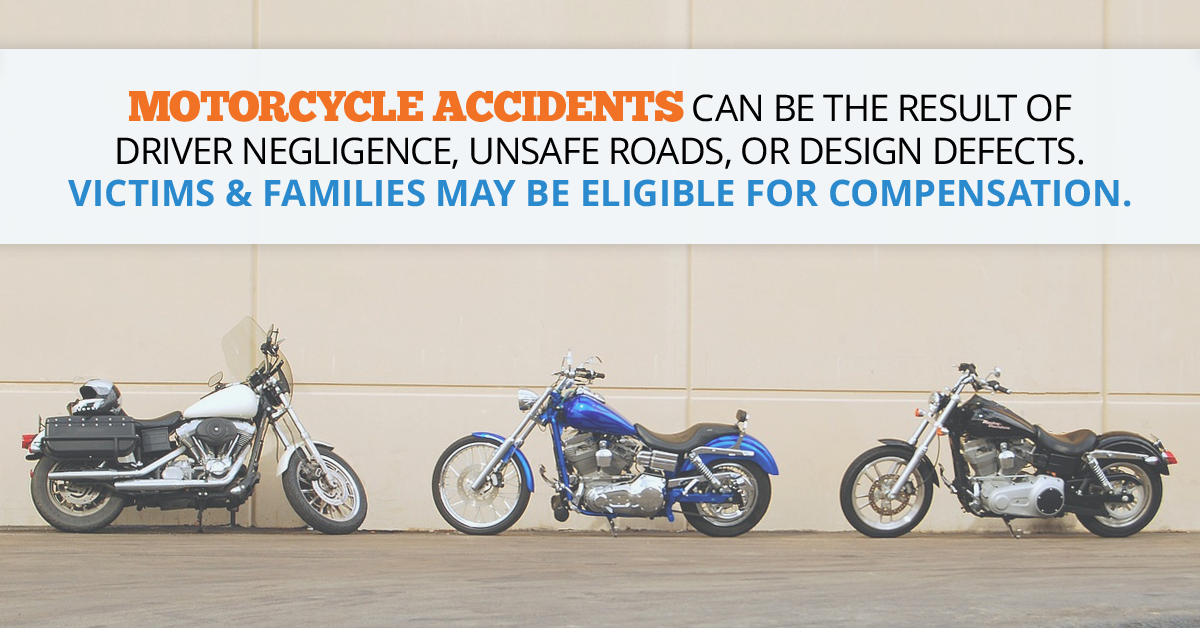 The Unique Nature of Motorcycle Accidents
Despite efforts at the federal, state and local level to reduce the risk of motorcycle accidents on U.S. highways, accidents involving motorcyclists are more prevalent than ever. According to the National Highway Traffic Safety Administration (NHTSA), 4,976 people died in motorcycle accidents in 2015, an 8.3% increase from 4,594 in 2014. Motorcycle accidents can be caused by any number of factors, at the fault of other drivers, government entities responsible for maintaining safe road conditions, and possibly even motorcycle manufacturing companies.
Much like a motor vehicle accident or trucking accident, motorcycle accidents can cause major injuries, some of which may result in chronic pain or persistent medical problems requiring long-term medical care. However, motorcycle accident injuries can be much more serious than injuries sustained in a motor vehicle accident, because riders are more exposed than passenger car drivers and passengers.
In 2014, motorcyclists were 27 times more likely than passenger car occupants to die in a collision per vehicle mile traveled, and almost five times more likely to be injured.
Causes of Motorcycle Accidents
Reckless driving
Speeding
Tailgating
Unsafe road conditions
Inclement weather
Drunk driving
Distracted driving
Failure to obey a traffic signal or sign
Design defects
Drowsy driving
Pursuing Compensation for Motorcycle Accident Injuries
If you believe you may be entitled to financial compensation for injuries sustained in a motorcycle accident, there are two things to consider: liability and damages. Liability has to do with fault, or who is legally to blame for the accident, while damages refers to the injuries and other losses the victim suffered in connection with the accident.
If, for example, your motorcycle was rear-ended by another vehicle while stopped at a red light, but you didn't sustain any injuries, the driver who rear-ended you would be liable for the accident, but you wouldn't be eligible for much in terms of compensation, since you didn't suffer any compensable damages.
If, on the other hand, you suffered life-threatening injuries in a serious motorcycle accident, and another driver is found liable for the accident, you may be entitled to compensation for your injuries, medical bills, and other damages related to the accident.
Common Motorcycle Accident Injuries
Whiplash
Broken bones
Head or neck injuries
Back or spinal cord injuries
Internal bleeding
Severed limbs
Traumatic brain injury
Wrongful death
Road rash
Lacerations
If you have been involved in a motorcycle accident, seek medical attention immediately — even if you appear to be unharmed. In some cases symptoms of injuries, like whiplash and internal injuries, may not arise until days or even weeks after the accident. It may be difficult to link it to the accident, unless your attorney has the medical records to prove it.
Contact a Personal Injury Lawyer Today
Motorcycles are much smaller than passenger cars, have only two wheels, and expose the rider to more danger than most other vehicles, which makes riding a motorcycle riskier than riding in a car. In fact, data from the Insurance Information Institute shows that, in 2014, motorcyclists were 27 times more likely than passenger car occupants to die in a collision per vehicle mile traveled, and almost five times more likely to be injured.
If you or a loved one has suffered injuries in a motorcycle accident, contact a knowledgeable personal injury lawyer as soon as possible to discuss your legal options. You may have grounds to file a motorcycle accident lawsuit against the person found at fault in the accident, in order to seek financial compensation for your losses.