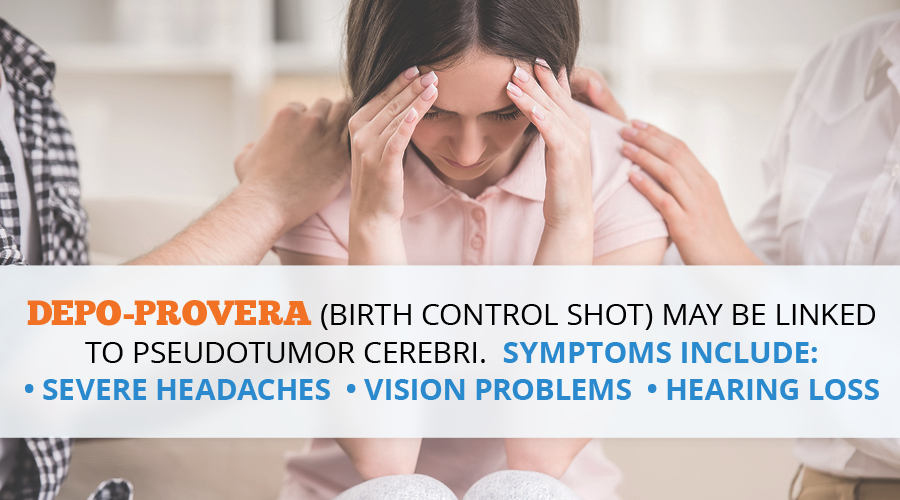 Depo-Provera and Pseudotumor Cerebri
Also known as idiopathic intracranial hypertension (IIH) or benign intracranial hypertension (BIH), pseudotumor cerebri (PTC) is a serious neurological condition occurring when there is a buildup of pressure inside the skull for no apparent reason. In many cases, patients with PTC exhibit symptoms similar to those seen with a brain tumor, including severe headaches, problems with vision, a ringing in the ears, swelling in the optic nerve and permanent blindness, when no tumor is actually present. The intracranial pressure associated with pseudotumor cerebri is caused by an excessive amount of cerebrospinal fluid in the brain, which has been attributed to a problem with the fluid being reabsorbed into the body.
Although the cause of pseudotumor cerebri is generally not known, health experts have warned that hormonal birth control products like Depo-Provera may increase a person's risk of experiencing the neurological condition. One of the first studies linking birth control to PTC side effects was published in 1995, when researchers identified 56 cases of the condition in women using contraceptives containing the hormone levonorgestrel. In December 2012, a report funded by the Faculty of Sexual and Reproductive Healthcare in the U.K. highlighted a case report linking Depo-Provera to PTC side effects in a 23-year-old woman. According to the report, "The woman's only medication was depot medroxyprogesterone acetate which she had taken only one dose of 2 months prior to presenting with [IIH]. She discontinued the method and experienced total resolution of symptoms after the 4th monthly visit."
In many cases, patients with PTC exhibit symptoms similar to those seen with a brain tumor—including severe headaches, problems with vision, a ringing in the ears, swelling in the optic nerve, and permanent blindness—when no tumor is actually present.
Why Depo-Provera Lawsuits Are Being Filed
Depo-Provera lawsuits brought against Pfizer allege:
The drug maker manufactured a defective and unreasonably dangerous drug.
The drug maker failed to adequately warn about the potential link between Depo-Provera and PTC side effects.
The drug maker marketed Depo-Provera as a safe contraceptive method for long-term use.
The drug maker knew about the potential for Depo-Provera to cause serious side effects in users.
The drug maker placed company profits over patient safety.
What is Depo-Provera?
Depo-Provera is a birth control shot that belongs to a class of medications called "progestins," and contains a synthetic version of the female sex hormone progestin, called depot medroxyprogesterone (DMPA). The injection is administered once every three months, and helps prevent pregnancy by inhibiting ovulation (the release of eggs from the ovaries) and by thinning the uterine lining, thereby making it more difficult for sperm to fertilize an egg. Many women whose lifestyles make taking a daily birth control pill inconvenient have turned to birth control injections like Depo-Provera, unaware that the medication may put them at an increased risk for severe side effects, including pseudotumor cerebri.
How a Depo-Provera Lawsuit Can Help
Filing a Depo-Provera lawsuit against Pfizer can help cover the cost of:
Medical bills and hospital visits
Lost wages due to the inability to work
Emotional trauma
Long-term medical care
Pain and suffering
Permanent disability
Depo-Provera Lawsuit Information
The U.S. Food and Drug Administration (FDA) approved Depo-Provera as an injectable contraceptive in 1992, and in recent years, growing concerns have been raised about the potential connection between the birth control injection and pseudotumor cerebri side effects. A number of lawsuits have already been brought against Pfizer for complications linked to Depo-Provera birth control, including a $700 million class action lawsuit filed in Canada, alleging bone loss and osteoporosis side effects from the injectable contraceptive. In 2010, Pfizer settled several class action lawsuits involving problems with Depo-Provera, and product liability lawyers across the country are now investigating claims by women who received Depo-Provera injections in the past and have since suffered other serious medical conditions, like pseudotumor cerebri.